Are you wondering if it's safe to sleep with contact lenses in? The short answer to this question is: it's not recommended. During contact lens exams, eye care professionals emphasize the importance of proper lens fitting, care, and usage.
While some contact lenses are designed for overnight wear, sleeping in your lenses can pose risks to your eye health.
Understanding the potential complications of wearing contact lenses overnight is crucial for maintaining optimal eye health. Following expert advice from your optometrist can help prevent issues arising from improper contact lens use, allowing you to enjoy clear vision and healthy eyes while wearing your lenses.
Risks & Potential Complications of Sleeping with Contact Lenses
Sleeping in contact lenses can increase your risk of developing an eye infection by 6 to 8 times. This is because the lenses restrict the flow of oxygen to your eyes, creating a breeding ground for bacteria.
By understanding the possible complications that could arise from sleeping with your contact lenses, you can make informed decisions about your contact lens usage and take steps to maintain your eye health.
Corneal Ulcers
Corneal ulcers are open sores on the cornea, the clear dome on the front of the eye. They can be caused by sleeping in contact lenses.
Corneal Abrasions
When you sleep with your contacts in, your eyelids can rub against the lenses, causing corneal abrasions.
Patients with corneal abrasions typically experience pain, redness, and watering. Eye care professionals can identify these abrasions through staining during an eye examination.
Conjunctivitis
Conjunctivitis, commonly called pink eye, is an inflammation of the conjunctiva, the thin layer covering the white part of the eye and the inner surface of the eyelids.
Sleeping in contact lenses can cause damage to the cornea, potentially allowing microbes to enter and lead to infections like pink eye.
Dry Eye Syndrome
Wearing contact lenses overnight can reduce the amount of oxygen reaching your eyes, leading to dry eye syndrome. This condition occurs when your eyes do not produce enough tears or the tears evaporate too quickly, causing symptoms such as burning, itching, and redness.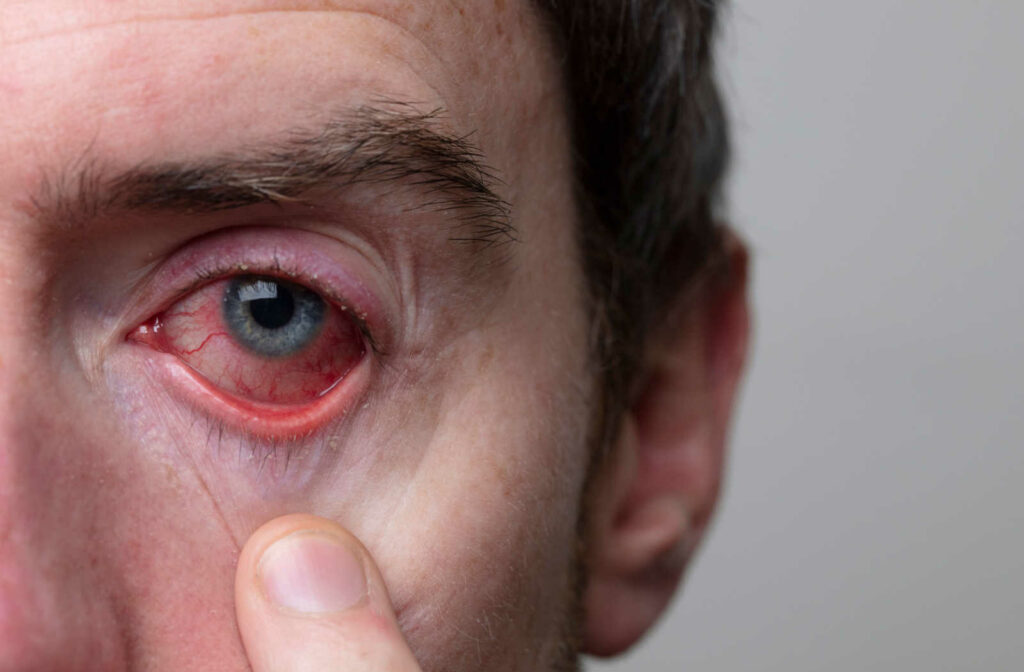 How Long Can You Wear Contacts?
The length of time you can wear contact lenses depends on the lens type and your prescription.
Most lenses are designed for daily wear, meaning they should be removed and cleaned every night before bed. There are also biweekly and monthly disposable lenses available.
However, some extended-wear lenses are specifically designed to be worn overnight for up to 7 days. These lenses are made from materials that allow more oxygen to pass through, making them safer for overnight use.
Always check with your optometrist before sleeping in your contacts, even if you use extended-wear lenses. Remember that even when your lenses are approved for sleeping, adhering to appropriate contact lens care and hygiene practices remains crucial to minimize the risk of complications.
I Wore My Contacts Overnight: Now What?
If you fall asleep with your contact lenses in, remove them as soon as you wake up and give your eyes a break by wearing glasses for the day.
Look for signs of irritation or infection, such as redness, pain, or discharge, and consult your optometrist if you notice any issues.
Tips to Keep Your Eyes Healthy When Wearing Contact Lenses
Maintaining good eye health while wearing contact lenses involves following proper care and hygiene practices. Adhering to these guidelines can reduce the risk of complications and help you enjoy clear, comfortable vision.
Wash & Dry Your Hands
Always wash your hands with water and soap before handling your lenses, and dry them thoroughly with a clean cloth.
Avoid Water Exposure
Keep contact lenses away from all water sources, as water can introduce germs to the eyes. Remove your contact lenses before swimming, and avoid showering while wearing them.
Clean Your Lenses Properly
Rub and rinse your contact lenses with a contact lens disinfecting solution. Use the solution recommended by your eye care provider, and always use fresh contact lens solution.
Maintain Your Contact Lens Case
Clean your contact lens case by rubbing and rinsing it with a contact lens solution. Empty and dry the case with a clean tissue, then store it upside down with the caps off after each use. Replace the case at least once every three months.
Communicate with Your Eye Care Provider
Discuss your contact lens wear and care habits with your eye care provider during appointments. Visit them yearly or as often as recommended, and contact them immediately if you experience eye pain, discomfort, redness, or blurred vision.
Stay Prepared
Carry a pair of glasses with a current prescription in case you need to remove your contact lenses unexpectedly.
Trust Prairie Vision with Your Eyes
At Prairie Vision, we understand the importance of a contact lens exam and fitting. Our experienced eye doctors use high-end technology to evaluate your eye health and address any ocular conditions appropriately.
If you want to try contact lenses or switch to a new style or brand, let us know during your next eye exam or call to schedule a contact lens fitting. We carry a wide selection of contact lens types and styles, allowing us to find a suitable fit for almost anyone.
Trust Prairie Vision with your eyes and experience our compassionate, small-town atmosphere.