Sunglasses are a great way of protecting your eyes from sun damage and keeping you comfortable when you're playing or working outside. But not all sunglasses are made equal. For example, if you spend a lot of time around water or large reflective surfaces, polarized sunglasses could be a great option.
Fortunately, it's not hard to tell if your sunglasses are polarized. You can usually tell by tilting your head while looking at a reflective surface, looking at a digital device, or comparing them to a pair you know are polarized.
Before you rush out to get a new pair of sunglasses perform one of these simple tests. But it's also worth mentioning that polarized lenses are not necessarily the best type for every situation. We'll review a few situations where polarized sunglasses may be beneficial. If you are still unsure, your optometrist can recommend a pair for your specific situation.
What Are Polarized Sunglasses?
Polarized sunglasses have a tinted lens that is chemically treated to prevent or reduce glare from horizontal reflective surfaces, such as snow, water, or glass. When lightwaves hit these horizontal surfaces it causes them to scatter horizontally. The polarization on the glasses blocks the horizontal light, which can give crisper vision.
Keep in mind that polarized lenses don't block UV rays unless they are also treated to provide UV protection. But many polarized sunglasses from reputable brands will also be UV protective. You should still confirm that to maximize your eye protection.
Benefits of Polarized Lenses
The benefits of polarized sunglasses aren't a one-size-fits-all answer. For example, these sunglasses are great for boating when you need to read the waves. But if your job requires reading a digital device, they may not be ideal.
Some common benefits of polarized sunglasses can include:
Crisp, clear vision—especially in bright lights or sun
Increased contrast between light and dark colours
Minimal colour distortion, which provides truer colour
They can help reduce eye strain when spending a lot of time in the sun
How to Tell If Your Sunglasses Are Polarized
Your optometrist or their team can help you get polarized sunglasses if you're purchasing a new pair of sunglasses. But sunglasses are not always cheap and if you spent good money on a pair already, it's worth checking before buying another pair.
The Head Tilt
If you are hanging out at the lake, it's easy to check if your sunglasses are polarized. Look out over the water while the sun is shining. Tilt your head to the side, if your vision darkens and lightens as your head moves, the lenses are polarized.
Another way you can do this without craning your neck is to hold the sunglasses a few inches from your face, then tilt them forward or backward. If the view changes they're likely polarized and if it stays the same they are just tinted lenses.
Compare to a Different Pair
Some people have several pairs of sunglasses—we're not judging because sunglasses can also be an important part of your style. Simply switch between the sunglasses on a sunny day if you have a pair that you know is polarized.
Polarized lenses are often much darker than their counterparts. And if you do this around water, you'll notice a significant difference in how the water looks with polarized sunglasses versus regular sunglasses.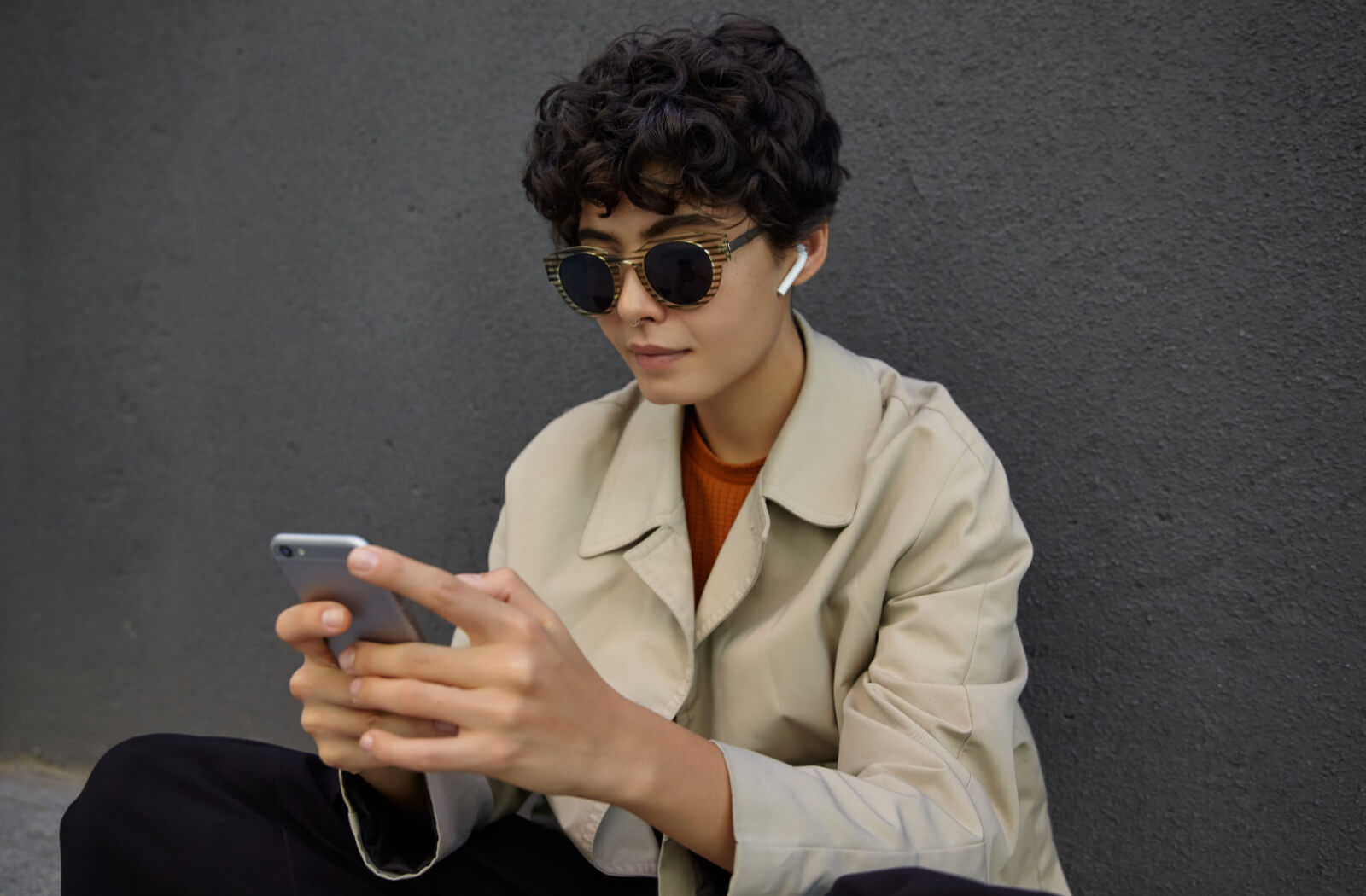 Look at a Digital Device
Most of us have cellphones and that's an easy way to see if your sunglasses are polarized. If they are, then a digital screen will look different because of the way they block certain lightwaves. You can use the first method by tilting your head or the glasses.
If you have polarized sunglasses the screen may be difficult to see clearly, depending on the angle. This is one reason that they are not good for activities that require the use of a digital screen, such as flying or operating heavy machinery.
Importance of Wearing Sunglasses
Wearing sunglasses is not simply a way to reduce eye strain in bright light—though, this is a significant benefit. Protection from UV radiation is actually one of the most important reasons for wearing them. That is a major reason why it's a good idea to ensure your sunglasses have UV protection, regardless of whether you need polarized lenses.
The various parts of your eye, such as the cornea, the lens, and the retina, absorb UV radiation. And this can lead to problems if the eye's natural healing ability is overwhelmed. Cataracts and other ocular diseases are linked to UV exposure. Photokeratitis, sometimes called snow blindness, is a painful condition that happens when the eye is exposed to too much UV radiation.
Don't Guess with Eye Safety
It'll be easy for you to determine if your sunglasses are polarized in most cases. But it may not be immediately evident if they provide adequate UV protection. Even small amounts of UV can damage your eyes, so checking that is an essential part of picking out sunglasses.
Stop by and check out our selection of designer frames. Book an appointment with the Prairie Vision team today and we can help get you set up with a new pair of polarized prescription sunglasses that include UV protection.