Our eyes are remarkable organs that grant us the gift of sight, allowing us to perceive the world around us. However, like all aspects of our health, our eyes require regular care and attention.
Eye exams are a fundamental component of maintaining your vision and identifying potential eye health issues, and should be a regular part of your life. But it can be challenging to determine when you should get an eye exam.
The Canadian Optometric Association recommends adults 20 to 39 should get an eye exam every 2 to 3 years, adults 40 to 64 should have one every 2 years, and those 65 and up should have one every year.
Children and those with additional medical issues, such as diabetes, require yearly eye exams.
Understanding the Need for Regular Eye Exams
Regular eye exams are essential for several reasons, including:
How Often Should You Get Your Eyes Checked?
The recommended frequency of eye exams depends on various factors, including age, eye conditions, and overall health. Here are specific guidelines based on different age groups.
Children
Pediatric eye health is crucial for proper development and learning. Children should have their first eye exam between the ages of 6 to 9 months. Another exam is recommended around the age of 2 and before starting school around the age of 5. If no vision issues are detected, follow-up exams every 1 to 2 years are generally advised during childhood.
Adults Age 20 to 40
For adults with good eye health and no known vision problems, an eye exam every 2 to 3 years is typically recommended. However, if you wear glasses or contact lenses, have a family history of eye diseases, or have certain medical conditions (like diabetes), annual eye exams are advised.
If you notice any changes in your vision or experience eye discomfort between scheduled exams, don't hesitate to consult an eye care professional.
Adults Age 40 to 64
As we age, the risk of eye diseases increases. Adults in this age category should have an eye exam every 2 years.
Older Adults Age 65-Plus
Older adults should have annual eye exams to monitor eye health and promptly address any emerging issues closely. Regular check-ups become even more critical in maintaining good vision and preserving independence as we age.
Preparing For Your Eye Exam
Preparing for an eye exam is essential for a thorough and accurate check-up. Here are a couple of ways to prepare for your exam:
Bring your Alberta Personal Health Card and any private insurance cards from third-party providers. Check your coverage and bring your plan details.
Bring your existing prescription glasses and sunglasses.
If you have contact lenses, please wear them to your appointment.
Bring a list of the current medicines that you are taking.
Compile a list of any eye-related symptoms or issues you may have experienced, even if they seem minor.
A good night's sleep and staying hydrated can positively impact your eye health and overall well-being. Being well-rested will also help you focus during the eye exam.
Don't hesitate to ask any questions you may have about the eye exam process or your eye health. Understanding the procedures and potential treatments will help you feel more at ease during the appointment.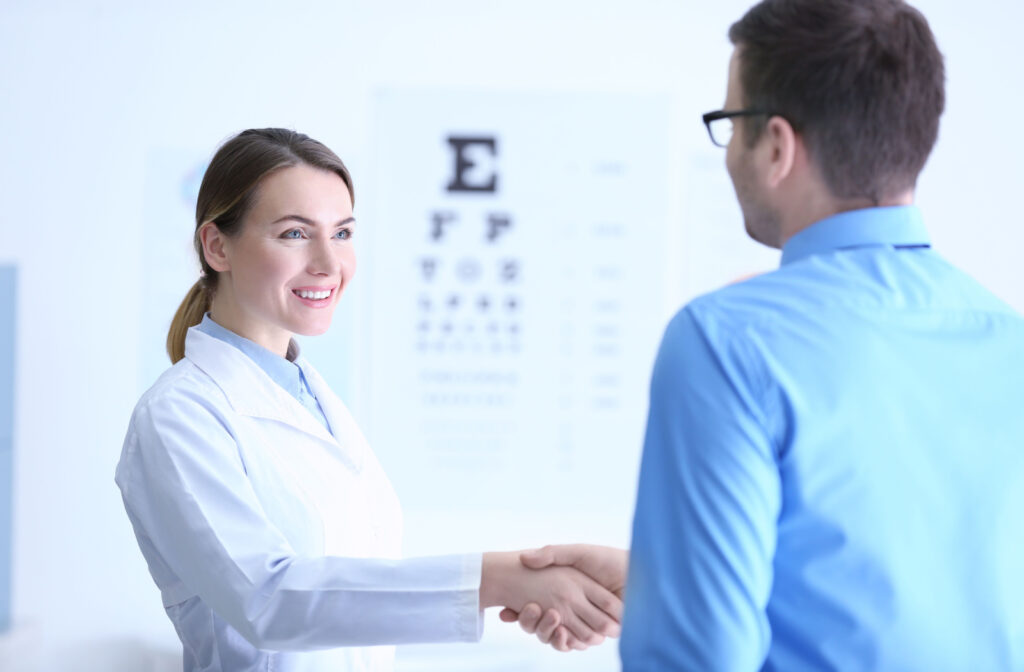 An Investment in Your Future
Regular eye exams are essential for maintaining clear vision and healthy eyes. By following the recommended guidelines on how often you should book an eye exam based on your age and individual needs, you can stay proactive in preserving your gift of sight.
Remember, an eye exam is more than just an assessment of your vision—it's an investment in your well-being and a clear window to a brighter and healthier future, and it all starts by booking an appointment with Prairie Vision.