Red, watery, uncomfortable eyes—is it pink eye or something else? Many patients may wonder whether they should visit their optometrist right away for an exam or wait to see if their symptoms go away with time. While these symptoms can mean you have pink eye, they may also be something else—like dry eyes, keratitis, or glaucoma.
What conditions are commonly misdiagnosed as pink eye?
What Is Pink Eye?
Pink eye is a common infection of the conjunctiva, the clear tissue that covers the white part of your eye and the inside of your eyelids. The infection can cause the eye to become inflamed, irritated, and red.
Pink eye is a common problem for many people, especially children. Most forms of pink eye are contagious and easily spread in daycares, playgrounds, or schools.
There are 3 types of pink eye:
Viral is typically caused by a viral infection, such as the common cold or flu viruses. It can cause eye redness, watery discharge, itchiness, and sensitivity to light.
Bacterial is caused by bacteria, usually from touching the eyes with unclean hands or sharing contaminated items. It can cause redness, thick yellow or green discharge, sticky eyelids, and crusty eyelashes.
Allergic is triggered by an allergic reaction to substances like pollen, pet dander, or dust mites. It can cause redness, itching, watering eyes, swollen eyelids, and a gritty or burning sensation.
Is Pink Eye Contagious?
Viral and bacterial pink eye are very contagious and can easily spread from person to person.
If someone with viral conjunctivitis coughs or sneezes, tiny droplets containing the virus may come into contact with your eyes and give you pink eye. Touching surfaces or objects contaminated with the virus and then touching your eyes can also transmit the infection.
Bacterial conjunctivitis is spread through contact with infected eye secretions or contaminated objects. Sharing personal items like towels, pillowcases, or makeup brushes with someone with bacterial conjunctivitis can cause you to catch it.
Allergic conjunctivitis is not contagious but can present with similar symptoms as viral or bacterial conjunctivitis, so it's important to see your optometrist to ensure it's not infectious.
It's crucial to practice good hygiene to prevent the spread of pink eye. Wash your hands frequently, avoid touching your eyes, and avoid sharing personal items with infected individuals.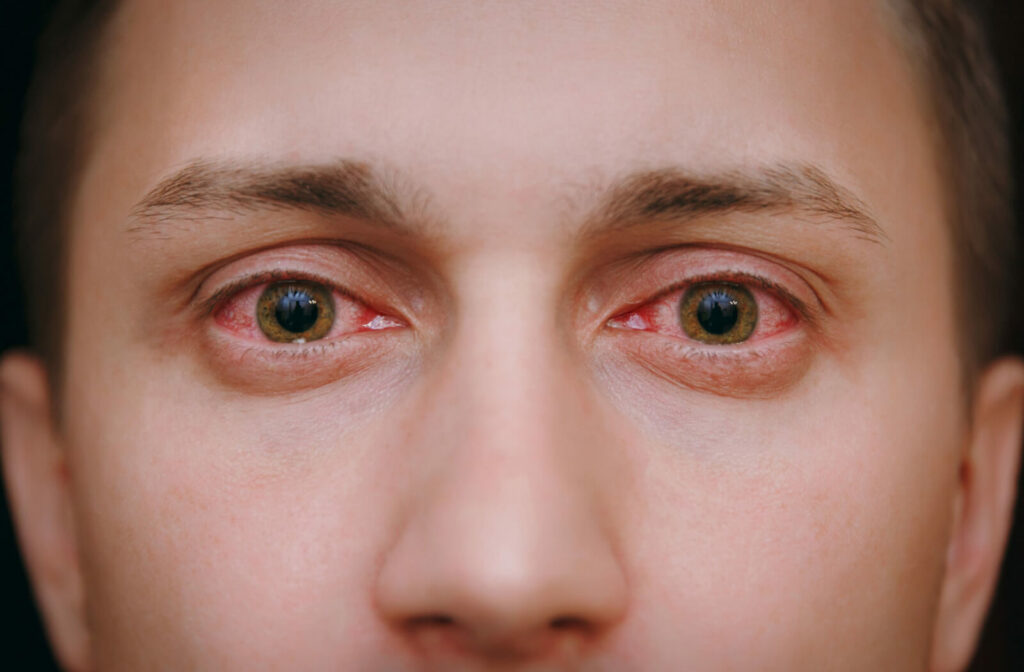 What Conditions Are Commonly Misdiagnosed as Pink Eye?
Though it may seem obvious when someone has pink eye due to symptoms like redness and swelling around the eyes—other conditions can share these symptoms. While patients can commonly misdiagnose themselves, your eye doctor knows what to look for to diagnose pink eye.
Some conditions with similar symptoms to pink eye include blepharitis, keratitis, styes, uveitis, dry eye, chalazion, and glaucoma.
Blepharitis
Blepharitis is inflammation of the eyelids, typically causing redness in the corners of your eyelids. It usually happens when there's an excess of bacteria on your eyelids and at the base of your eyelashes. Having dandruff, allergies, skin conditions, or oily skin can increase your risk of this condition.
While blepharitis can have similar symptoms to pink eye, your eye doctor can easily tell the difference between these conditions. Blepharitis can also cause dryness, eyelid swelling, and watery eyes, while pink eye doesn't.
Keratitis
Keratitis is a painful inflammation of the cornea caused by viral or bacterial infection, injury, or organic material getting into the eye. Using contaminated contact lenses is a common cause of this condition, leading to several uncomfortable symptoms like blurry vision and redness.
It can be easy to mistake keratitis for pink eye because they share some symptoms, but keratitis tends to be more painful.
Styes
A stye forms when an oil gland near an eyelash becomes infected, resulting in painful swelling in the corners of the eye. Redness is a common symptom due to increased blood flow in the affected area. This condition tends to go away on its own within a few days.
A stye may form when debris blocks your eye's oil gland or a hair follicle near the eye, trapping bacteria. While redness is common in pink eye and styes, you can tell these conditions apart by a stye's painful bump near your eyelid.
Uveitis
Uveitis is the inflammation of the uvea. This inflammation typically happens because your eye is fighting a problem like an autoimmune disease or infection. Blurry vision, pain, light sensitivity, eye floaters, and redness are common symptoms of this condition.
The difference between pink eye and uveitis is that pink eye doesn't lead to eye floaters. Experiencing consistent eye floaters alongside other symptoms may indicate you have uveitis—and that you should visit your eye doctor as soon as possible.
Dry Eye
Dry eye is a condition where tears can't effectively hydrate your eyes, leading to irritation and inflammation. Many factors can contribute to dry eyes, but this condition occurs due to issues with the tear film, which keeps your eyes protected, healthy, and comfortable.
Despite similar symptoms, pink eye and dry eye have primary differences: dry eyes can cause a stinging sensation in your eyes and are usually chronic. However, pink eye occurs suddenly and tends to be itchy.
Chalazion
A chalazion is a small cyst on the eyelid caused by oil buildup around the eyelid. While looking similar to a stye, a chalazion doesn't have pus or cause pain or significant swelling. They tend to clear up on their own within a few weeks.
Like styes, you can tell the difference between a chalazion and pink eye due to the bump on your eyelid.
Glaucoma
Glaucoma is an eye disease that damages the optic nerve and can lead to vision loss over time. There are many types of glaucoma, each affecting the eye differently.
Glaucoma can sometimes be mistaken for pink eye when it causes blurred vision. However, glaucoma doesn't cause redness or discharge like pink eye can.
Your Eye Doctor is Here to Help
While pink eye has many similarities to other eye conditions, your optometrist can help provide an accurate diagnosis during an eye exam and recommend a customized treatment plan for your needs—whether you have pink eye, dry eyes, blepharitis, or other eye conditions.
Contact us at Prairie Vision when you experience pink eye-like symptoms.